Assistant Professor for Conflict Resolution Class at Illinois State University
For the fall 2016 semester and beyond, Justin has been hired on as an Assistant Professor at Illinois State University through the School of Social Work! Justin will be teaching a graduate level course open to all majors and is approved for both graduate and undergraduate credit. The course will have a theoretical foundation of restorative justice theory and cover mediation in a variety of settings including judicial (child protection, small claims, foreclosure courts), peer mediation (elementary, secondary, higher education), and other applications of conflict resolution. Participants who complete the course are eligible for certification from the 11th Judicial Circuit of McLean County as a mediator for several mediation opportunities in McLean County.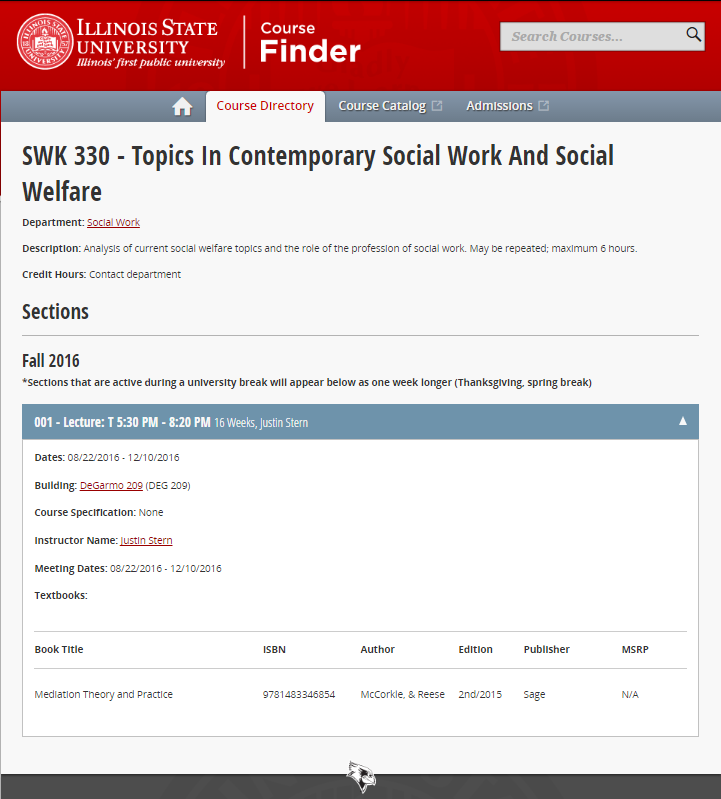 SWK 330 (Topics in Contemporary Social Work & Social Welfare) will examine conflict resolution as it applies to different areas of professional practice and communities; specifically students will learn about mediation and restorative justice practices as well as the theories that inform them.
More to come!!!